I've been cast in the serial short play "Starboat" by the dreamy James Comtois to be produced over the next few months at the Vampire Cowboys' Saturday Night Saloon. Directed by the formidable Pete Boisvert.
To avoid spoilers, I'll just say that I may or may not be appearing in each episode of the play.
First episode is coming up soon… DETAILS: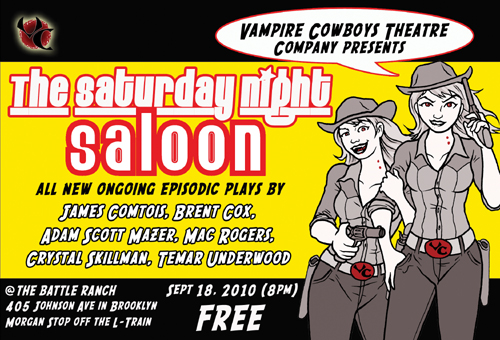 For its ninth season, Vampire Cowboys brings back its extremely popular series, The Saturday Night Saloon, a monthly party at THE BATTLE RANCH featuring brand new genre-bending serialized plays by NYC's hottest indie theatre artists.
The shows hit every third Saturday night of the month from September through January.
The Saloon is always free, the all-you-can-drink beer (or until we run out) is always only a mere five dollars, and the shows are always inventive.
Season 4 of the Saturday Night Saloon kicks off on September 18th at 8 p.m.!


at THE BATTLE RANCH
405 Johnson Avenue, 2nd Floor
(2.5 blocks from Morgan stop off L train)
For a map, Click here.

THEATRE WITHOUT RERUNS!
Season 4 includes six all-new exciting serialized plays including:

THE GHOST OF HENDERSON MANOR
written & directed by Temar Underwood
(The Brokenhearteds)

CONTROL ROOM
by Mac Rogers
(Universal Robots; Viral; Hail Satan)
directed by Jordana Williams
(Member of Gideon Productions)

DEATH VALLEY
created by Adam Scott Mazer & Dan Rogers
(Butterfly, Butterfly, Kill Kill Kill!)

STARBOAT
by James Comtois
(Infectious Opportunity; The Adventures of Nervous-Boy)
directed by Pete Boisvert
(Co-Artistic Director of Nosedive Productions)

JACK O'HANRAHAN & THE ONE-SIDED WINDOW
by Brent Cox
(Dog & Pony Show)
directed by Padraic Lillis (Member of LAByrinth Theater) & Courtney Wetzel

KILLER HIGH
by Crystal Skillman
(Hack, Vigil, The Telling Trilogy )
directed by Hope Cartelli
(Co-Artistic Director of Piper McKenzie Productions)

SALOON SCHEDULE

September 18, 2010
October 16, 2010
November 20, 2010
December 18, 2010
January 15, 2011

Produced by
Lex Friedman, Qui Nguyen, Abby Marcus, Robert Ross Parker, Daniel Rech

Poster Artwork by Jeremy Arambulo